Since hitting the ground in 1949, McIntosh has been behind some of the most iconic sounds of all time. Renowned for supplying the amplificatory power behind the legendary 1969 Woodstock Festival, and providing the 28,000 audio watts that drove the famous 'wall of sound' behind psychedelic alumni The Grateful Dead.
Flash forward to the present day, and McIntosh is still creating the highest quality audio components, with the ability to delight the ear and melt the spine. McIntosh is consistently ranked as the best of the best in the world of high end audio – a fact agreed upon by anyone lucky enough to hear a McIntosh tube amp.
The MA252 Integrated Amplifier is the first hybrid integrated amplifier from McIntosh. Taking retro design cues from the legendary McIntosh MC275 Vacuum Tube Amplifier, the MA252 combines the best of vacuum tube and solid state circuit design to create an amplifier that's both visually and sonically stunning.
With 200 Watts per channel, 14 inputs and a high-performance AM/FM tuner, the MAC7200 Receiver is a music lover's dream.
The built-in AM/FM tuner in the MAC7200 comes from that same illustrious line of McIntosh tuners and will pick up your favorite radio stations with unparalleled clarity and a realism that is free from noise and distortion. Its advanced signal quality monitor can display the multipath and noise levels of the incoming RF signal to help fine tune antenna placement for optimal reception. Dedicated PRESET and TUNING knobs enable easy radio operation. The FM tuner includes Radio Data System (RDS) support, allowing it to display optional information sent by radio stations such as the station's name and call letters as well as the name of the artist and song being played. It features 20 presets for each radio band as well as a remote AM antenna.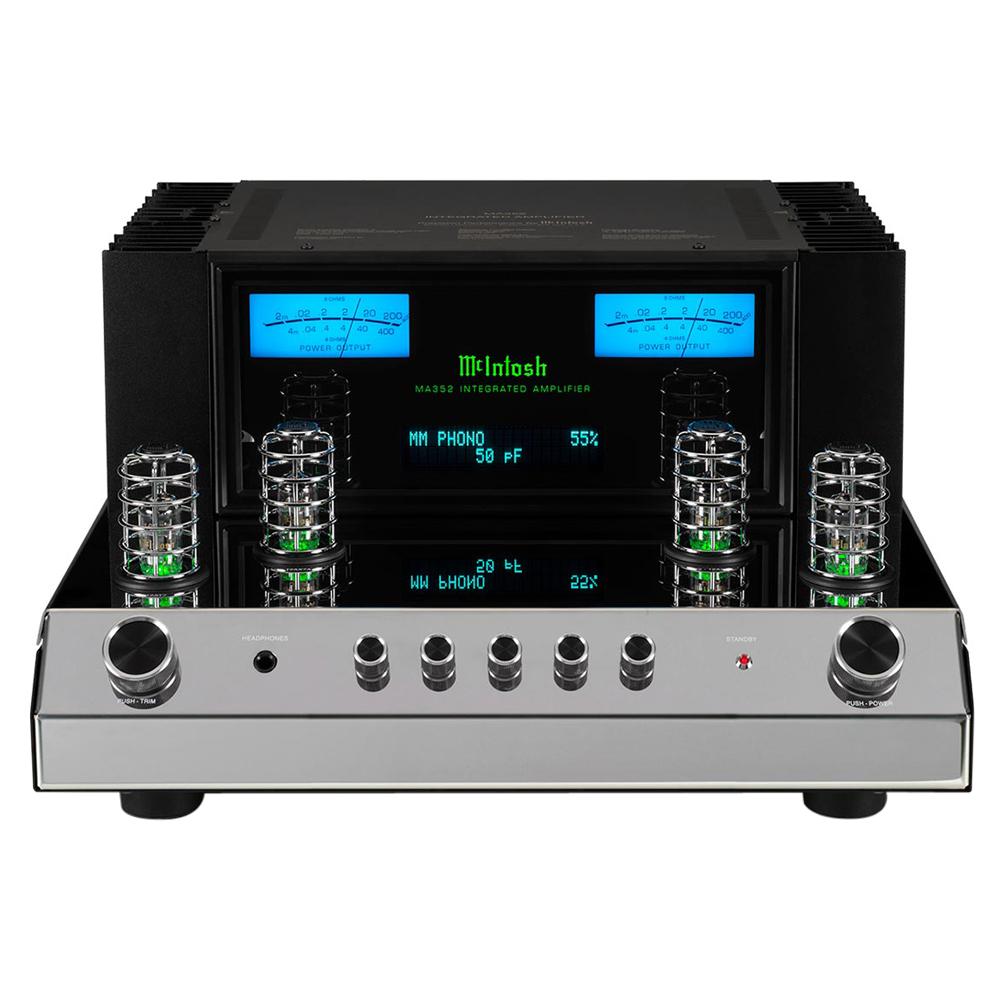 MC352 Hybrid Integrated Amplifier
The MA352 Integrated Amplifier is a hybrid design that combines the finest of vacuum tube and solid state audio design principles. The result is an eye-catching amplifier that enjoys the best of these two opposing audio philosophies all while reproducing music at the highest quality level.
An all analog design, the MA352 has a vacuum tube preamplifier section that is powered by a pair of 12AX7A and a pair of 12AT7 vacuum tubes; its output stage is a direct coupled solid state amplifier that outputs 200 Watts per channel into 8 Ohm speakers or 320 Watts per channel into 4 Ohm speakers – enough power to properly drive virtually any set of loudspeakers. Dual scale blue Watt meters give an accurate readout of power output for both speaker impedances.
Hybrid design: vacuum tube preamp and solid state power amp
200 Watts into 8 Ohms
320 Watts into 4 Ohms
5-band tone control

At Tivoli, we have a complete dedication to sound — in fact, we're pretty obsessed. Offering only the best quality hi-fi equipment, we take a consultative approach to help you get the right system for your taste in music, budget and home layout.
So whether you're setting up an entirely new system or looking to revolutionise your existing system, we can help. We understand the quest for the best possible music experience because we are music lovers too. With our 9 demonstration rooms and our 40 plus years of experience we will help you find the sound you have been looking for.
 We guarantee customer satisfaction by ensuring we only stock the very best in high-end audio, from legendary premium brands.