At the heart of every Theory system lies an Amplified Loudspeaker Controller (ALC). The ALC-1809 when used as the core of a 2.0, 2.1, 2.2, 3.1, 3.2, 3.3, 5.1, 5.2, 5.3, 7.1, 7.2 or 5.2.2 ATMOS surround sound system automatically configures itself for high-resolution Digital Signal Processing of the loudspeakers purchased, and sets audio levels, delays, bass management and signal routing within the system. All that is required from the installer is input of the listening distances and formatting of the decoding mode of surround sound processor.
The Theory Music and Surround Automator™ software handles the rest.
For advanced applications - larger format surround sound and distributed audio - the ALC-1809 is a virtual audio swiss-army knife: including 9-high power amplifier channels, 8 balanced analog audio inputs, 1 mic/line level input (software selectable), 96kHz/32-bit DSP processing including full signal routing, gain adjustment, 8x8 matrix bass-management, 8x8 matrix mixing, 160 parametric EQ's (20 per channel), automatic audio signal ducking for intercom and paging (perfect to allow Amazon Alexa and other voice assistants to page any or all of the distributed audio system channels), Internal band-limited and full band pink noise and sine sources, up 75msec of delay per channel and all in a fan-less, stylish, 1U chassis.
MUSIC AND SURROUND AUTOMATOR™
SMALL FORMAT SURROUND SYSTEM AUTOMATIC CONFIGURATION SOFTWARE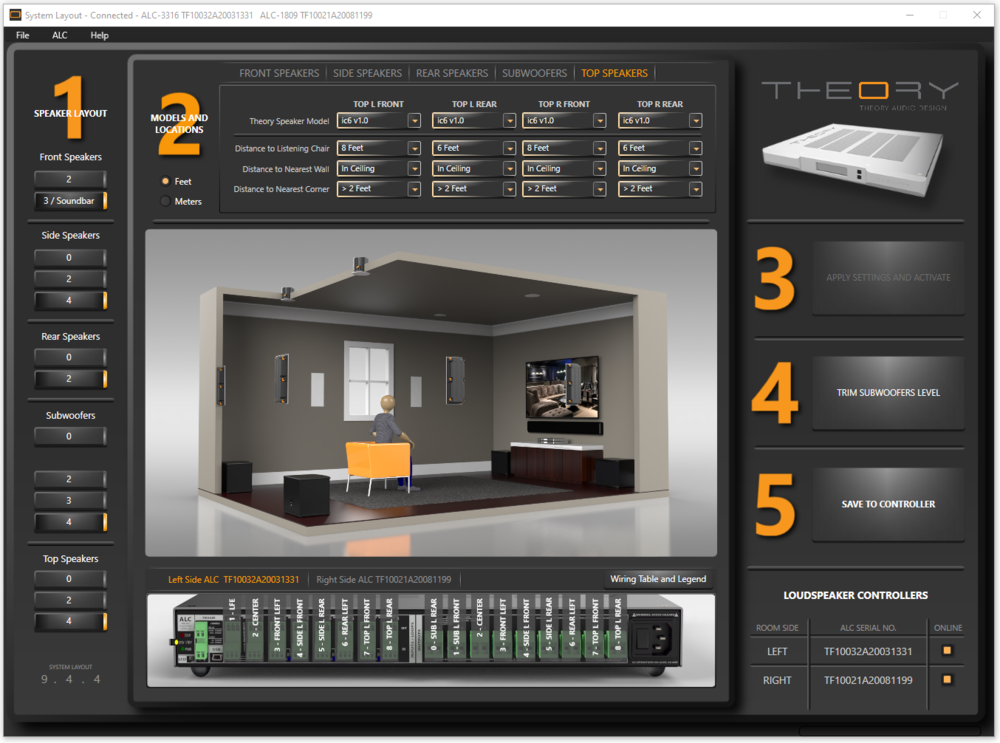 Description: 9-Channel Amplified Digital Loudspeaker Controller
Inputs: 8 x Balanced Analog Audio w Loop Outputs (1 mic/line level switchable)

Outputs: 9 x Speaker Outputs, 8 x Balanced Analog Audio Looping Outputs,
12VDC/Contact Closure Trigger Loop Output

Trigger: +12VDC or Contact Closure Trigger Input w Loop

Surround Formats Supported: 3.1, 3.2, 3.3, 5.1, 5.2, 5.3, 7.1, 7.2, 5.2.2 ATMOS

Audio Operation: 96kHz/24-bit

On-Board DSP: 96kHz/32-bit

DSP Features:
Automatic Configuration of Surround System Settings
Loudspeaker Processing For All Theory and PRO Models
Input Trim
Signal Routing
Gain
Delay (up to 75msec per channel)
160 Parametric EQ Filters (20 per channel)
Automatic Audio Ducking for Audio Zone Paging
8 x 8 Parametric Bass Management (Bass Steering)
8 x 8 Matrix Mixer
Mono Summing: 8 Stereo + 4 mono Signals
Bass and Treble Controls
Master Volume
Clip Limiter
Internal Sine and Pink Noise Sources

Bandwidth: 5.5Hz-40.6kHz, -6dB

Frequency Response: 20Hz-20kHz, +/-0.2dB

Amplifier Power Output: Channels 0-1-2: 300W, 4-ohms

Channels 3-8: 100W, 4-ohms, bridgeable to 300W*

Voltage Gain (all channels): 30dB

Input Sensitivity:
Channels 0-2: 1.1V
Channels 3-8: 660mV

Power Requirements:
Standby: 16W
Idle: 41W
(1/8 power, all ch. driven): 281W

Idle Noise (speaker program, typ., A-wt.):
Channels 0-2: -82dBV (0.00008V)
Channels 3-8: -80dBV (0.00010V)

Signal to Noise Ratio:
Channels 0-2: 108dB
Channels 3-8: 105dB

Distortion (1kHz, 1dB below max output): <0.02%

AC Operation: 100V-240VAC, 50-60Hz

Finish: Matte Bright Aluminum

Dimensions: 44.45 mm H x 432 mm W x 381 mm D
44.45 mm H x 482.6 mm W x 381 mm D with Rack Ears

Accessories: 8 x Euro-to-XLR Adapters Included

Software: Theory Music and Surround Automator™ Auto system configuration tool

Weight: 5.9 Kg