We Stand Behind Our Products and Our Customers
Austere creates technologically superior products that keep us powered and connected. Products that perform to the highest expectations every single time. We believe in them so much that they're backed with a lifetime guarantee to never break and never fail ensuring Austere performs to your expectations. Always.
Austere V Series Banana Plugs
Austere Banana Plugs are the highest standard of design and performance. All-metal and built with pure gold to eliminate copper speaker wire oxidation and ensure an unimpeded music experience. The SecureLatch adapters produce an internal grip that provides an uncompromised connection, which stays put delivering optimal performance.
No more trying to shove the raw copper wire into your components and hope that it makes a reliable connection. Our banana adapters enable a secure, professional connection every time that is contained and protected from everything from snags and tugs to the elements behind your system. And the easy twist-by-hand design means no additional tools are required. Austere Banana Adapters elevate your audio and connection experience.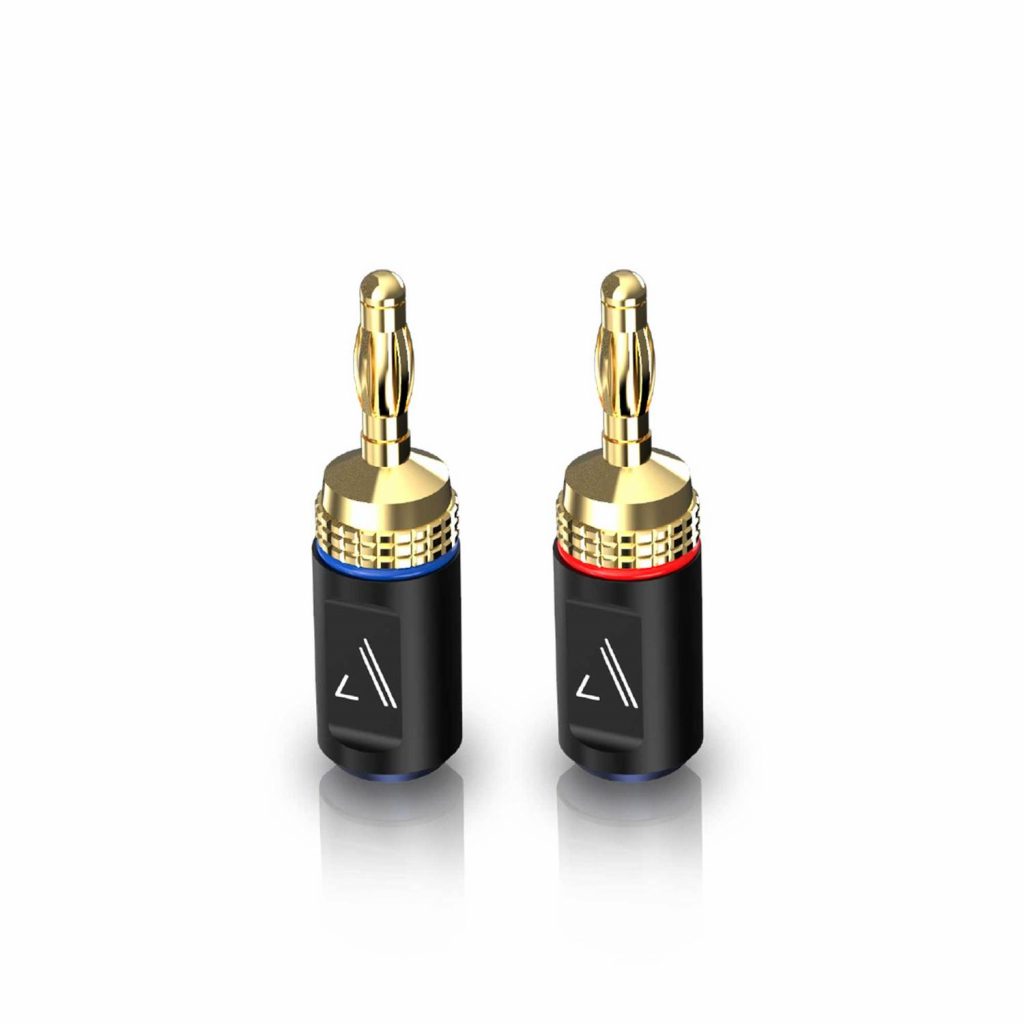 Austere cables are Kevlar-reinforced and protected by our proprietary WovenArmor, constructed for flexibility and strength, so confined spaces and tight installations won't impede their efficiency. The all-metal pure endurance gold shielded contacts create an unwavering connection that will last a lifetime. To upgrade your entertainment experience, we've added High-Fidelity ARC technology that delivers the highest-quality streaming audio available. And the aDesign housing is visually stunning to complement your home décor.
Austere's cables are made with today's most innovative technologies and materials for performance and durability. Ideal for HD displays and the devices that connect to them, such as Apple TV or Roku and gaming devices, such as PlayStation and Xbox. Don't let sub-par cables limit your system's ability to deliver the peak performance you expect from your displays and devices.

At Tivoli, we have a complete dedication to sound — in fact, we're pretty obsessed. Offering only the best quality hi-fi equipment, we take a consultative approach to help you get the right system for your taste in music, budget and home layout.
So whether you're setting up an entirely new system or looking to revolutionise your existing system, we can help. We understand the quest for the best possible music experience because we are music lovers too. With our 10 demonstration rooms and our 40 plus years of experience we will help you find the sound you have been looking for.
 We guarantee customer satisfaction by ensuring we only stock the very best in high-end audio, from legendary premium brands.