With Arcam & Definitive Technology
A home theatre package is a work of art, and this package is Tivoli's finest creation. If you are looking for the complete audio experience in your home theatre look no further than here. Combining Definitive Technology's top of the range SuperTower, Centre, Surround sound and in-ceiling speakers with the Arcam 850 reciever will make all your audio and visual wishes come true.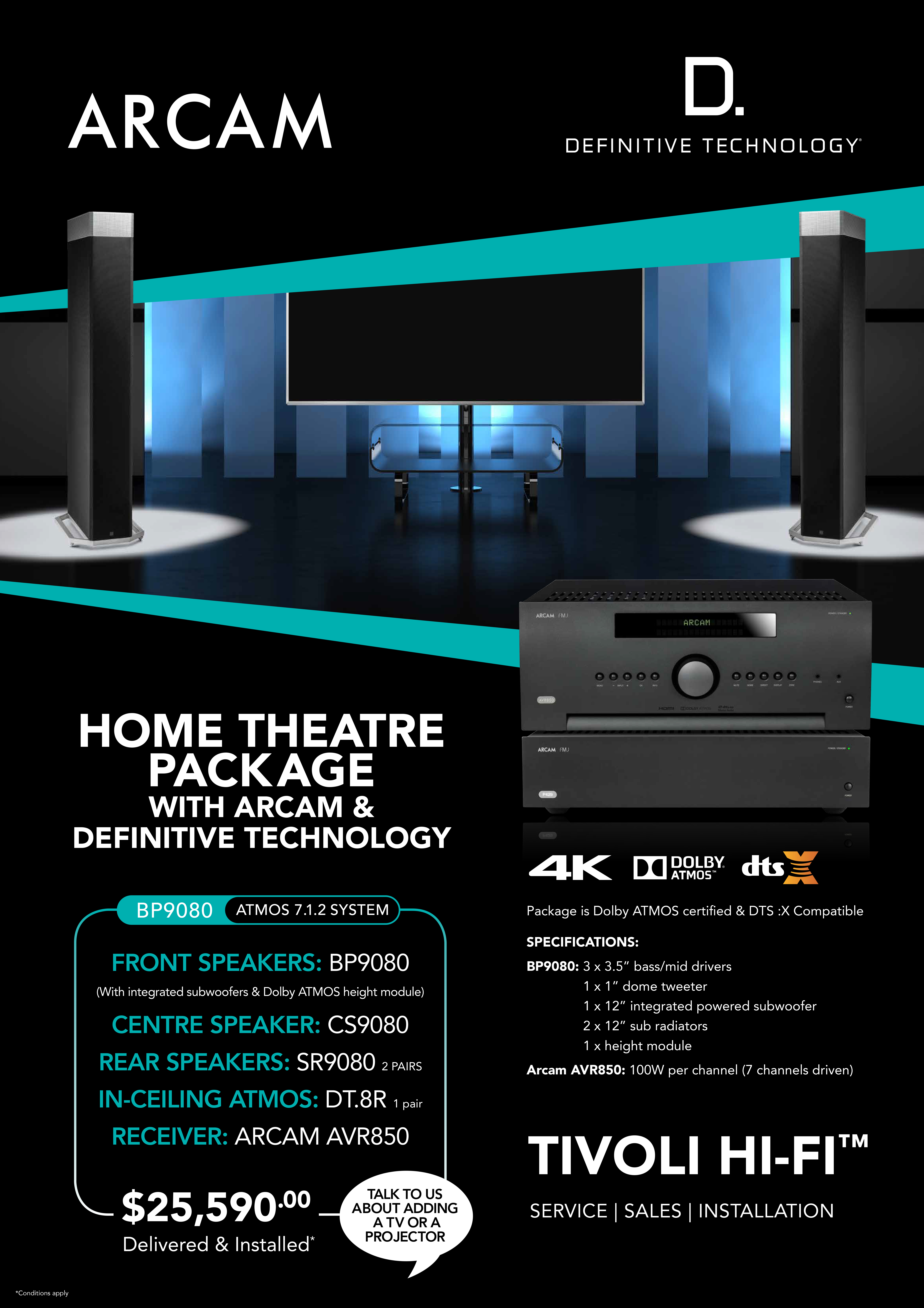 Definitive Technology BP9080x Bipolar SuperTower Speaker with integrated height speakers for Dolby Atmos and built-in 12" Subwoofer with dual 12" radiators.
Definitive Technology CS9080HD Centre Channel Speaker integrates 8" powered Subwoofer with Bass Radiators and intelligent Bass Control to achieve deep bass simultaneously maintaining clear and accurate vocal range.
Definitive Technology SR9080 Bipolar Surround Speakers delivers every detail of pure surround sound to your home theatre. Its Bipolar dispersion carpets sound to evenly to wide area.
Definitive Technology DT8R 9" In-Ceiling Speaker is high performing reliable in wall speaker that are easy to install and used for multi-room applications and creating home theatre.
The only single box AV Receiver that will make all your audio and video wishes come true.
As one of the very few audio specialists in the world to design AV receivers, Arcam has developed a reputation for balancing a finely honed technical specification with world class audio performance. The AVR550 & AVR850 are, quite simply, the highest performing AV receivers Arcam has ever made.
$25,590.00
Delivered & Installed*